---
What it's Like Working for Us
Working for us means embracing diversity

We understand that our beliefs, backgrounds and experiences – both shared and individual, help us to better serve the communities we support

While we specialise in different areas, we're all linked by a shared vision – to be a leader in community support and a trusted partner in community wellbeing all to support and empower New Zealanders in need to live well and independently in their community

You'll have ongoing opportunities to learn new skills, develop and grow personally and professionally

You'll meet amazing people, all doing fantastic things for people in communities across New Zealand – and become one of those amazing people yourself

We enjoy our work because we're all in this for the same reason – we're passionate about supporting Kiwis both at home and in the community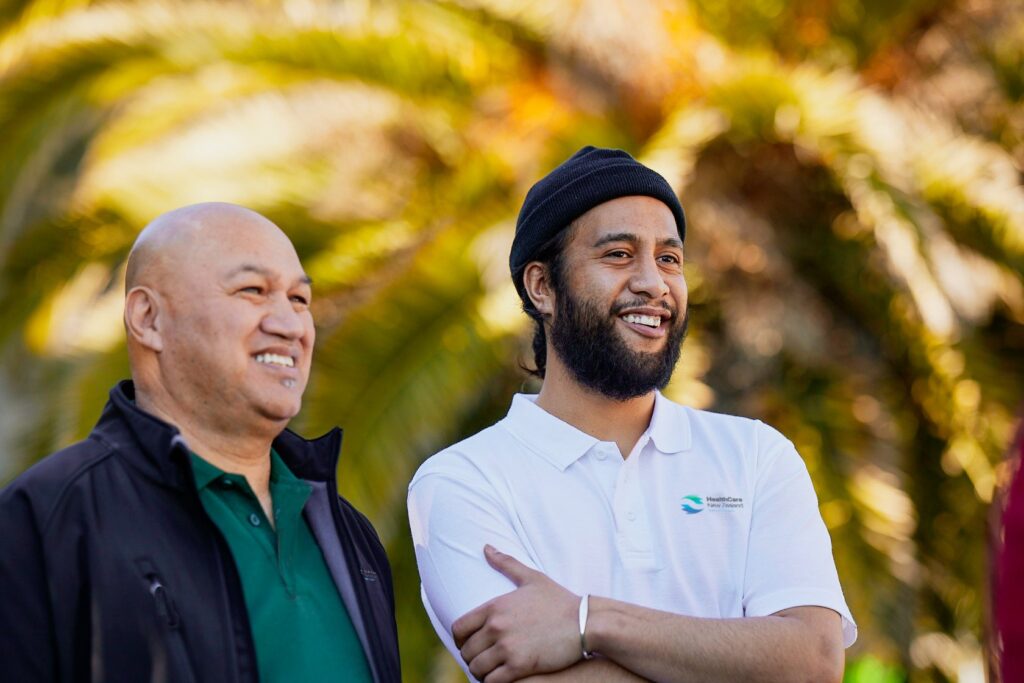 Who makes up our HealthCare New Zealand whānau?
We've built our success on our great people and great teamwork. People with diverse life skills delivering services in the way that our clients need. We value people with heart and a determination to do what's right every day.
There are an amazing array of career opportunities and pathways across our business. Whether you work in one of our offices or directly support people in the community, our commitment to innovation means that your work will be varied, valuable and interesting.
What career opportunities exist at HealthCare NZ
Direct support roles
As a Support Worker – you are the face and heart of our business. The work is varied and opportunities exist across a range of different specialties including Mental Health, Community Health & Rehabilitation, Complex Services, Disability Support and Social Services. It all depends on what you're passionate about!
Clinical Specialists
A variety of opportunities exist within the organisation for nurses and registered health professionals, whether that be working directly in the community, or as part of our clinical quality team. Many of our nurses have an additional scope of practice, approved by ACC as specialists in injury assessment and management because we are a contracted supplier for ACC. As a business we participate in the Nurse Entry to Practice (NETP) programme led by the Christchurch District Health Board (CDHB) to support graduate nurses with professional development to transition from graduate to competent Registered Nurse. Check out our nursing jobs here.
Behaviour Support and Wellbeing Specialists
We are the national provider of behaviour support for people with disabilities and New Zealand's largest private employer of Psychologists. We work using a Positive Behaviour Support (PBS) framework and our exceptional team includes Psychologists, Educational Psychologists, Occupational Therapists, Speech Language Therapists, Teachers, Nurses and Behaviour Therapists/Specialists (BCBA's). In addition to behaviour support services we provide a psychological service (psychological assessments (adults/children), neuropsychological assessments, ACC sexual abuse counselling and psychological therapy) which is provided by our team that includes Clinical Psychologists, Neuropsychologists, Psychotherapists, and Counsellors. We offer a supervised internship to Intern Psychologists provided by our team of Clinical Psychologists.
Service Centre
As the engine room of the organisation, a career in our Service Centre is truly rewarding. You are the interface between our customers, support workers and our branch network which requires attention to detail, strong communication skills and the ability to multitask under pressure. Due to the fast-paced nature of the work, a resilient nature is required. The Service Centre is made up of multiple teams including Onboarding and Referrals, Co-ordination and After Hours as well as specialist roles including workforce planning and management. There are a mix of working hours available including standard business hours as well as a rotating roster over seven days a week including weekends and public holidays.
Service Delivery (Branch)
Service Delivery Managers, Regional Managers, Community Disability Support Facilitators, Positive Behaviour Specialists, Service Quality Managers, and Branch & Rural Facilitators. Our branch network works closely with sector organisations, funders, stakeholders, the people we support and their family/whānau, as well as our frontline staff, to ensure we deliver the best possible services.
Corporate services
In addition to our centralised NZ Health Group functions, HealthCare NZ has a strong network of supporting divisions including Finance & Payroll, People & Culture, Administration and our partnership businesses which include Solora, Freedom Medical Alarms and Duty Calls.
He waka eke noa.
To see what health jobs are currently available, click here
---
Back to top